NIH/NIAID SBIR Fast Track grant accelerates the company's commercial activities towards a non-viral delivery platform that alleviates current limitations on NK cell gene editing
CAMBRIDGE, Massachusetts—June 16, 2021—Kytopen., a transformative biotechnology company offering non-viral delivery that links the discovery, development and manufacturing of engineered cell therapies, today announced it was awarded a SBIR Fast Track grant from the National Institute of Allergy and Infectious Diseases (NIAID), a part of the National Institute of Health (NIH). Kytopen is eligible for up to $2M over the course of the 3-year award as project milestones are successfully completed within the Phase I and Phase II portions of the grant.
Natural killer (NK) cells represent a high impact population for cell therapy, but due to limitations in current methodologies for gene delivery, NK cells remain a largely untapped resource. This SBIR grant will be used to demonstrate that non-viral delivery via Kytopen's Flowfect® platform can alleviate this limitation on NK cell gene editing at both research and manufacturing scale, which is needed for pre-clinical and clinical studies. Due to the major potential impact NK cells represent in a clinical setting, non-viral Cas Ribonucleoprotein (RNP) gene knockout will allow for novel therapeutic applications in infectious disease, autoimmune disorders, and immuno-oncology.
Paulo Garcia, Kytopen's CEO and Co-Founder will serve as the Principal Investigator (PI) on the grant. Dr. Garcia explains that "engineered NK cells have tremendous therapeutic promise including the potential to treat solid tumors in an allogeneic modality. The Flowfect® platform will facilitate high-throughput target discovery while providing a clear path towards clinical manufacturing of next-generation cell products."
NK cells are a subset of innate immune cells that can respond to threat without antibody priming. This quick response to stimuli makes them an ideal immunotherapy candidate. Yet, genetic modification in NK cells has proven to be difficult using conventional viral and non-viral transfection methodologies. Alternative delivery methods are necessary in order to make genetic modifications at reproducible and efficient rates, while maintaining high cell viability and functionality.
The awarded study leverages continuous fluid flow coupled with low energy electric fields for transfection via a proprietary Flowfect® platform (Figure 1). This platform represents a novel approach to non-viral delivery in historically "hard-to-transfect" human cells. The current research proposes to engineer non-activated NK cells with Cas RNPs for gene editing using the Flowfect® platform. To achieve this goal, Kytopen has outlined a two-phase research strategy which focuses on stability and functionality of edited NK cells both in vitro and in vivo.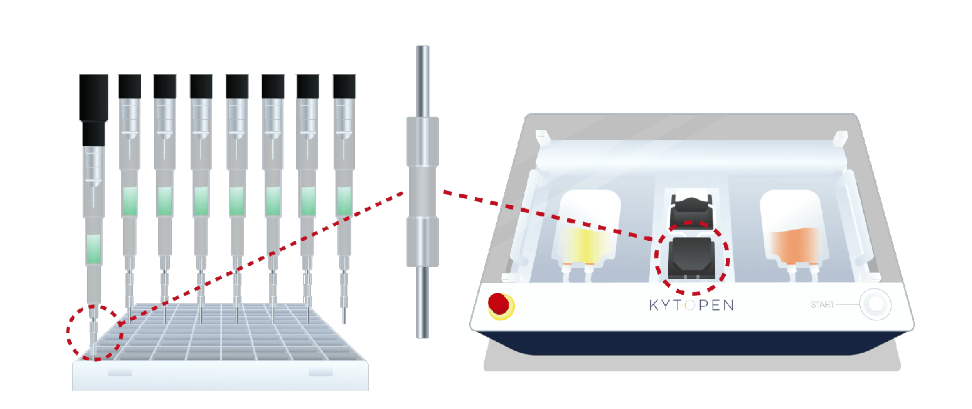 Figure 1. Schematic depictions of the core Flowfect® technology (center) and our two implementations of the high-throughput Flowfect® Array (left) for automated discovery and Flowfect® Tx (right) for clinical manufacturing.
NIH sponsored grant programs are an integral source of capital for early-stage U.S. small businesses that are creating innovative technologies to improve human health. These programs help small businesses break into the federal research and development arena, create life-saving technologies, and stimulate economic growth. Kytopen is honored to be a recipient of this competitive award from the NIH/NIAID and looks forward to unlocking biological capabilities of engineered NK cells for improving patients' lives during the performance of this project.
About the Flowfect® Technology
Kytopen's proprietary Flowfect® platform eliminates the complexity of gene editing and integrates discovery, development and manufacturing in one flexible and scalable non-viral delivery solution. The Flowfect® technology utilizes electro-mechanical energy to disrupt the cell membrane and introduce genetic material (such as RNA, DNA, or CRISPR/Cas RNP) to a wide variety of hard-to-transfect primary cells. During the Flowfect® process, a solution containing cells and genetic payload suspended in a proprietary buffer flows continuously through a channel while the solution is exposed to a low energy electric field. Due to the continuous flow and low electrical energy required, cells engineered using Flowfect® exhibit high viability while also exhibiting high transfection efficiency post-processing. The Flowfect® technology utilizes relatively high flow rates enabling cell engineering in minutes for discovery and optimization (e.g. 96 well plate in <10 minutes) and direct scale up to manufacturing volumes of >10mL, engineering over 2 billion cells per minute in a single channel.
About Kytopen
Kytopen, an MIT spin-out, is a transformative biotechnology company that offers a customizable yet scalable multi-solution platform, which seamlessly links the discovery, development and manufacturing phases of cell engineering. Flowfect®, a gentle, non-viral delivery method unlocks new therapeutic approaches, by engineering immune cells with minimal disruption, preserving the functionality and viability of human cells and enhancing the cell's biology. The Flowfect® platform accelerates therapies from the bench to clinical through flexibility and scalability, which drives higher cell yields, faster approvals, and better outcomes from potentially curative cell-based treatments. Kytopen's goal is to enable simple and efficient non-viral manufacturing of cell therapies in days versus weeks to increase access to many more patients. For more information, visit: www.kytopen.com
Media Contact:
Greg Crescenzi
Chief Commercial Officer
press@kytopen.com