Today, we celebrate Kytopen's sixth anniversary, a journey filled with groundbreaking achievements and remarkable progress. Kytopen's mission is to revolutionize the field of gene delivery and cell therapy discovery through manufacturing to increase patient access to life-saving therapies with our scalable genome engineering platform. In this blog post, we highlight six milestones that have shaped Kytopen's journey.

Kytopen's Story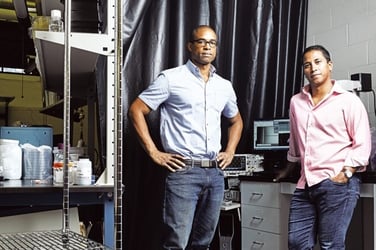 Dr. Cullen Buie & Dr. Paulo Garcia (2018) Credits: MIT Spectrum

On June 12th 2017, Kytopen was co-founded by MIT Professor Cullen Buie and Dr. Paulo Garcia with pre-seed funding from The Engine. The origins of Kytopen can be traced back to 2013 when Professor Buie received a DARPA Young Faculty Award after attending a synthetic biology conference. This funding enabled him to enlist Dr. Garcia as a postdoctoral researcher. In 2015, the duo joined the NSF Innovation Corps (I-Corps) program, where they engaged with over 125 industry professionals, revealing a critical issue in genetic engineering and synthetic biology: the slow, manual, and low-throughput delivery of genetic material to cells.
During their 40+ industry visits, they encountered a synthetic biology company that had automated their pipeline—except for gene delivery. Staff scientists were still manually pipetting material into each cell sample and performing traditional static electroporation one sample at a time. Recognizing this significant bottleneck, Professor Buie and Dr. Garcia secured additional research funding to develop novel technology from the National Science Foundation (NSF). Their relentless efforts was the beginning of Kytopen as a company and its proprietary gene-delivery technology, Flowfect®.
Flowfect® combines electromechanical delivery with continuous fluid flow to enable the efficient transfection of genome engineering materials to primary human cells. The technology overcomes batch limitations and allows researchers to utilize many different parameters to optimize rapidly and scale-up payload delivery to cells for manufacturing. With this technology, cell therapy researchers and developers can reduce the time and costs associated with cell therapy manufacturing by resolving the delivery problem at the discovery stage.

In May 2018, Kytopen raised $3.6 million in seed financing led by The Engine, and with participation from Horizons Ventures, and angel investors with significant industry experience. Kytopen also secured lab space in The Engine and began building a team of engineers, biologists, and commercial biotech professionals. Over the past 6 years, the Kytopen team developed and built two genome engineering products, established multiple partnerships, and launched collaborations with cell therapy researchers and companies.



The Kytopen Team pictured March 2023
As Kytopen celebrates its 6th birthday, we reflect upon six remarkable milestones that have propelled the company forward and made an impact on gene and cell therapy development. Cheers for many more advances to come!
Six Milestones to Celebrate on Our Sixth Birthday



1. Launching Flowfect Discover™ (2023) – A Breakthrough in Automated High Throughput Gene Delivery
Flowfect Discover™ - High-throughput gene delivery

In 2023, Kytopen unveiled the Flowfect Discover™, an automated, high throughput gene delivery platform. This revolutionary technology opens new avenues for researchers to accelerate cell therapy discovery and development by enhancing efficiency and enabling predictive scaling of gene delivery processes. With Flowfect Discover™, Kytopen empowers therapeutic developers to discover and scale new cell therapies with confidence.
2. Foundational Scientific Advisory Board (2023) - The Creation of a Diverse Scientific Leadership Team
Recognizing the importance of multidisciplinary collaboration, Kytopen assembled a distinguished Scientific Advisory Board in 2023. This esteemed group comprises seven top experts from diverse fields, including bioengineering, mechanical engineering, synthetic biology, entrepreneurship, and more. Their collective wisdom and guidance are invaluable in shaping Kytopen's scientific vision, ensuring that Kytopen continues to build solutions that best meet the needs of cell therapy researchers and developers.
>>Meet the Scientific Advisory Board

3. Partnering with BioCentriq and Mirus Bio (2021 & 2023) – Transformative Gene-Editing Technology for Cell Therapy Manufacturing

In 2021 and 2023, Kytopen embarked on two strategic partnerships to revolutionize the field of regenerative medicine and drive advancements in gene-editing technology. The first collaboration saw Kytopen join forces with BioCentriq®, combining Kytopen's cutting-edge gene delivery platforms with BioCentriq's cell therapy development expertise. This partnership was extended in 2023 to include the new Flowfect Discover™ platform for rapid optimization of gene delivery prior to scale-up. This partnership will expedite the impact of transformative gene-editing technology by resolving cell therapy manufacturing problems early in the discovery/optimization stage.

>> Meet BioCentriq

In a second partnership, Kytopen teamed up with Mirus Bio, a pioneering transfection company. Their mission is to overcome challenges related to delivering complex genetic materials to living human cells. By leveraging Kytopen's high-throughput cellular and genome engineering platforms with Mirus Bio's nucleic acid delivery expertise, this collaboration will enhance genome engineering capabilities, particularly for traditionally difficult-to-manipulate primary cells, while improving production yields.

>>Meet Mirus Bio
4. Launching Flowfect Tx™
(2022) - Large-Scale Gene Delivery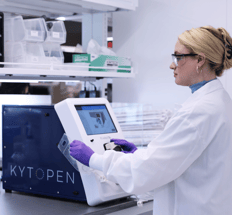 Flowfect Tx™ - Large-scale gene delivery
In 2022, Kytopen introduced the Flowfect Tx™, a powerful gene delivery platform designed for manufacturing gene-modified cell therapies at any scale. This innovation provides gene therapy researchers with a robust tool to deliver genetic material into cells with exceptional efficiency at large volumes. The Flowfect Tx™ enables the delivery of genetic material to billions of cells in a matter of minutes to expedite cell therapy manufacturing.
5. Securing Series A (2021) - $30M in Funding to Advance Non-Viral Delivery Platforms
Kytopen successfully completed its Series A funding round in 2021. Led by Northpond Ventures, the oversubscribed funding raised over $30 million. This financial boost allowed Kytopen to expand its research and development efforts, enhance its technological capabilities, build a commercial team and further advance non-viral delivery methodologies through the Flowfect® platforms. The investment solidified Kytopen's position as an emerging player in the gene delivery landscape.

>>Read more about our investors and partners
6. Publishing Initial Results (2021) - Electro-Mechanical Transfection for Non-Viral Primary Immune Cell Engineering
In 2021, Kytopen released its initial results on the proprietary electro-mechanical transfection for non-viral primary immune cell engineering. This seminal research showcased Kytopen's commitment to advancing the field of gene delivery without the limitations of viral vectors. The study demonstrated the efficacy of Kytopen's technology in enabling precise genetic modifications in immune cells, providing a promising avenue for the development of novel immunotherapies. Our internal R&D team has shown compelling data for delivery of mRNA, DNA, and CRISPR RNP in primary T cells, NK cells, and stem cells that has since been replicated by our partners in both discovery and manufacturing scale, shaping the future of the cell and gene therapy industry.

A huge thank you to all of our former, current, and future Kytopals for making these six milestones a reality in our journey toward patient impact! Excited about the future of our company and the additional milestones we will achieve and celebrate together.